Ganesha 2018 (fresh)
I offer this version against the healed so that you may see how my black and grey work settles in. This photo is directly after the one-shot 5 hour session that Holly sat for. See how the fresh work is a little bit higher contrast and lighten just a value as it settles into the skin. I can't wait to complete this sleevework in progress
Ornate Mourning Iris 2017/18
This Ornate Mucha inspired Shoulder Cap piece on Terra.
I designed it with colorful floral and jewel elements to represent a loss in her life and the beauty and growth that happens when you can finally let go.
Tigers are Primal 2018 (fresh)
This picture is from just after our session this piece is a fun one, he let me design it with his only request being that he wanted a wild animla ripping out of the skin on his giant quad this piece is about 14x24 and took two sittings.
Reverse Mermaid 2018
I made this custom reverse mermaid piece on Chris in two sittings. I love the absurdity of this piece and it's such a fun style that will hold well as he ages.
Poenies Illustrated 2016-2018 (healed)
Mikkel moved to California between the first and second session of this project so we had a year to let everything heal down. They are one of my favorite current projects.
Pink Rose at Heart 2017
I made this pink love rose with Kristi as one of my last projects at Screaming Ink. It is about a year healed in this photo.
We based it on and had assistance from my old boss Wayne Forest. I wanted to match the traditional rose Wayne placed on Kristi's partner. In essence, celebrating their new love while making the rose subtle and feminine with muted colors to support the meaning.
Pretty Clown Girl 2017/2018
I made this piece based off his references and we worked in a handful of long sessions to get the upper arm all done. The portrait portion is healed for a year here: we went in on the edges and roses after this shot. I think this project is somewhere around 20 hours and wraps around the inside with a clock and roses.
Neolithic Stag 2017
Seth and I got together on Dec 24th 2017 and made this in one shot. I honestly can't think of a better way to bring in the winter season.
Here it's healed a few months and furry again
Also: It's the tops in cats pajamas and I want to cover whole bodies in this style.
Dom's Only One 2018
I designed this piece for Dom to remember his late cousin by. We used high contrast shapes in the foreground and watercolor background to tie together the symbols that resonate for their relationship. After tattooing others in his family for over two decades, I'm sad this memorial is Dom's only tattoo but happy that I got to do it.
Mehndi Rose Coverup 2017
This was a one shot coverup that I photographed badly but I love it so it had to be included here.
Botanical Rose Banger 2017
This is the only pic I have of this Blackwork underboob banger. We designed this from a victorian botanical print I had. Rendered in about 3 hours.
Endless Knot 2017
Kuan Yin 2016/17
Maggie has been my client for a few years now and I am so lucky to know her as a friend and patron. This photo was taken at our yoga collective.
We made this Kuan Yin piece earlier in our body of work and it was a breakthrough for me. I used simple black lines, lighter value colors, in an impressionistic manner to make her look heavenly and kind.
Hermit at Night 2017/18
Maggie's other arm is my hermit. I used a more discordant color scheme to bring it into the night, intuition, and to accent the internal lights in the piece while still expressing her story and journey through healing archetypes.
Foxes 2017
I made this for Katie in 2017
Sam's Tree 2016-2018 (wip)
I just love these women! This tree piece was healed for a year, the background color is fresh. cover-up/Work in progress shot
Where You At? 2017 (healed)
This is a healed picture of a scientific illustration I made last year on Alyssa.
Inner Sight Jammer 2017
I made this at one of the many holiday (Valentines? Halloween? Xistmas?) specials our street shop had in 2017. I love it. I no longer offer seasonal jammer discounts but I do appreciate the electric energy of the shop during these events.
cousins in town 2018
I did these minimalist Aries constellation tattoos on these cousins visiting Spokane The whole family came and convened for the day getting one shot pieces like a walk in Saturday. It was a fun change of pace from "Let's do red for the next 6 hours!" and reminded me of the old walk in Saturdays I cut my teeth on.
Namaste Harry Potter 2017 (healed)
This piece is one of my favorite bangers of 2017. I got to blend a litrary reference to Harry potter with a Mehndi style background for a cool effect on a tattoo that will hold up for decades.
Tiny Black Bouquet
I love making minimalist miniatures blackwork or color. my minimum is $100 to cover my costs.
pineapple 2017
Custom pineapple for Katie's knee is healed here.
Sofa King Logo 2017
I painted this obnoxiously bright handmade Logo for Sofa King Extracts. watercolor on paper
moon catcher 2018 (fresh)
She let me design this dreamcatcher with the crescent moon shape and almost baroque elements. I used roses, stones, and varies feathers in this small scale one shot color piece.
Gashlycrumb 2018
This is a reproduction form one of my favorite children's books called the Gashlycrumb Tinies by Edward Gorey. My mom used to read it to me and loved dark humor. I got to do this on one of our longtime friends and tattoo collectors.
tribal mahi 2017
I did a Mahi Poke on this Brah (1 of 2)
Tribal Mahi 2017 (2)
This is the back half of that Mahi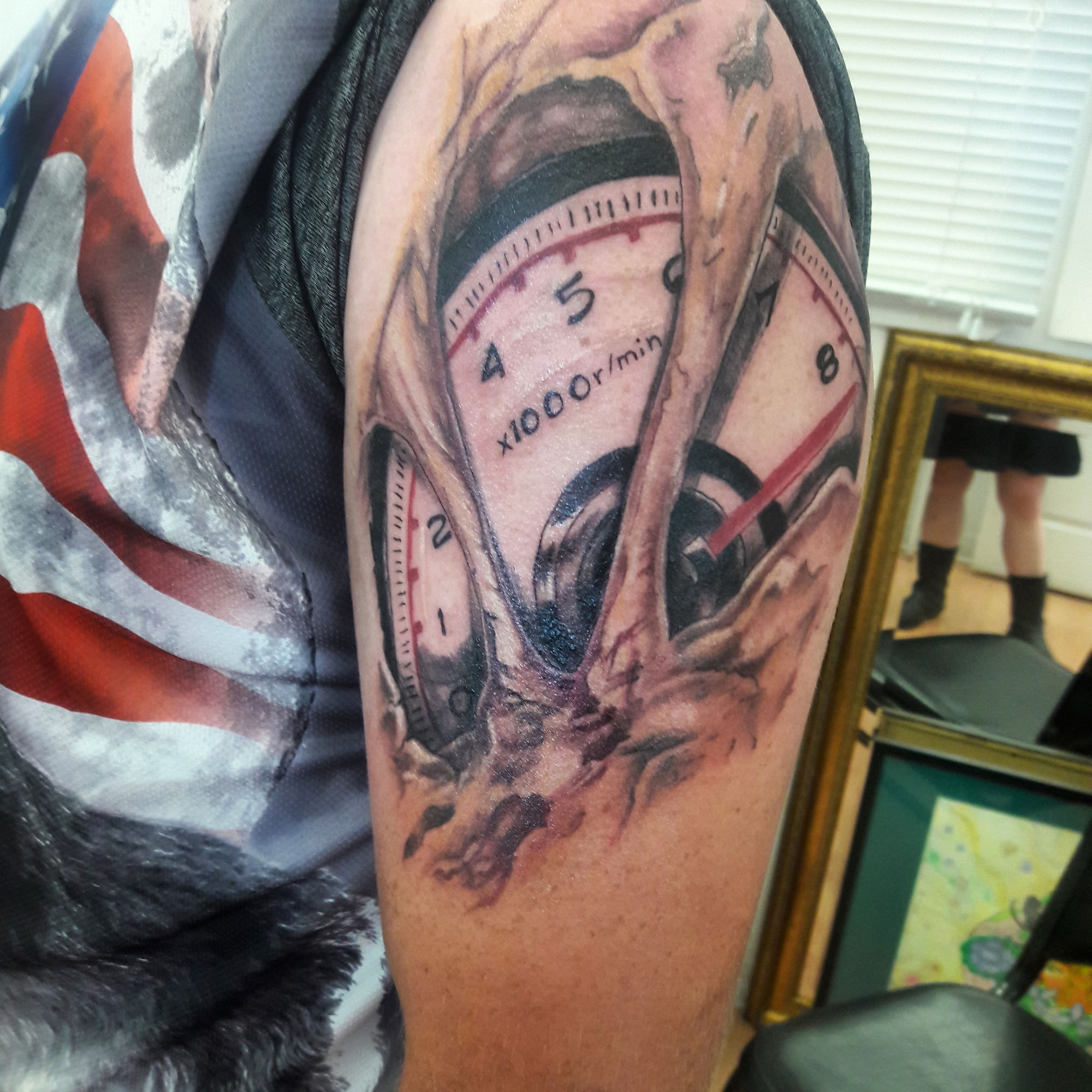 BioTachometer 2017 (fresh)
Walk in at my last spot: I worked off his reference an customized it. Fun piece we knocked out in under 4 hours.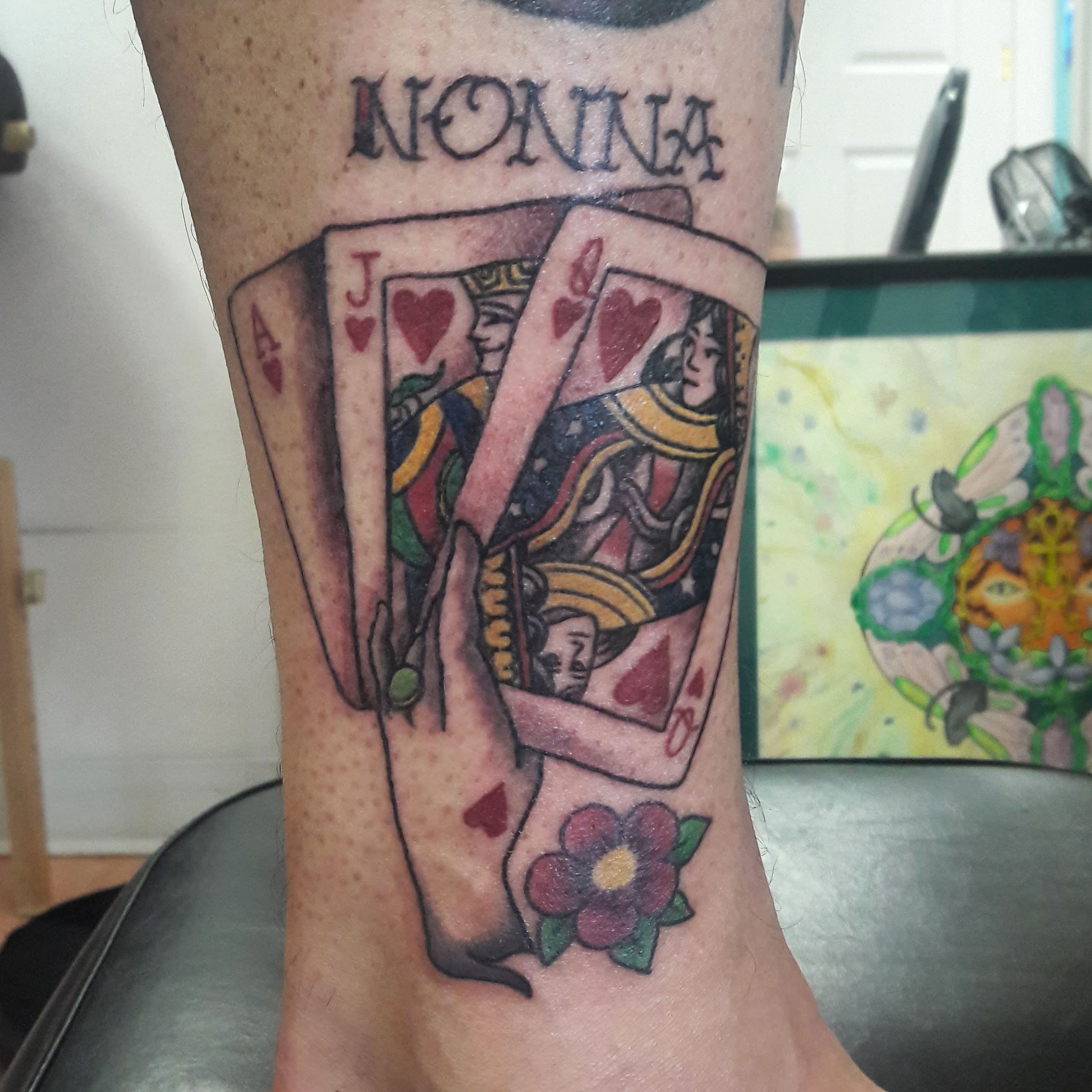 Nonna Banger 2017 (fresh)
Little Memorial piece for his Nonna I custom designed to match his existing style traditional work and fit in the gap. I love working this style.
Judith Deco WIP 2005-18
This is my newest large work. Judith's deco style Marx Brother Piece is from around 2005 and the added linework is water and hydra beasts that will fill her arm. Bit by bit, I usually build sleeves 3-5 hours at a time as frequently as a client can come in.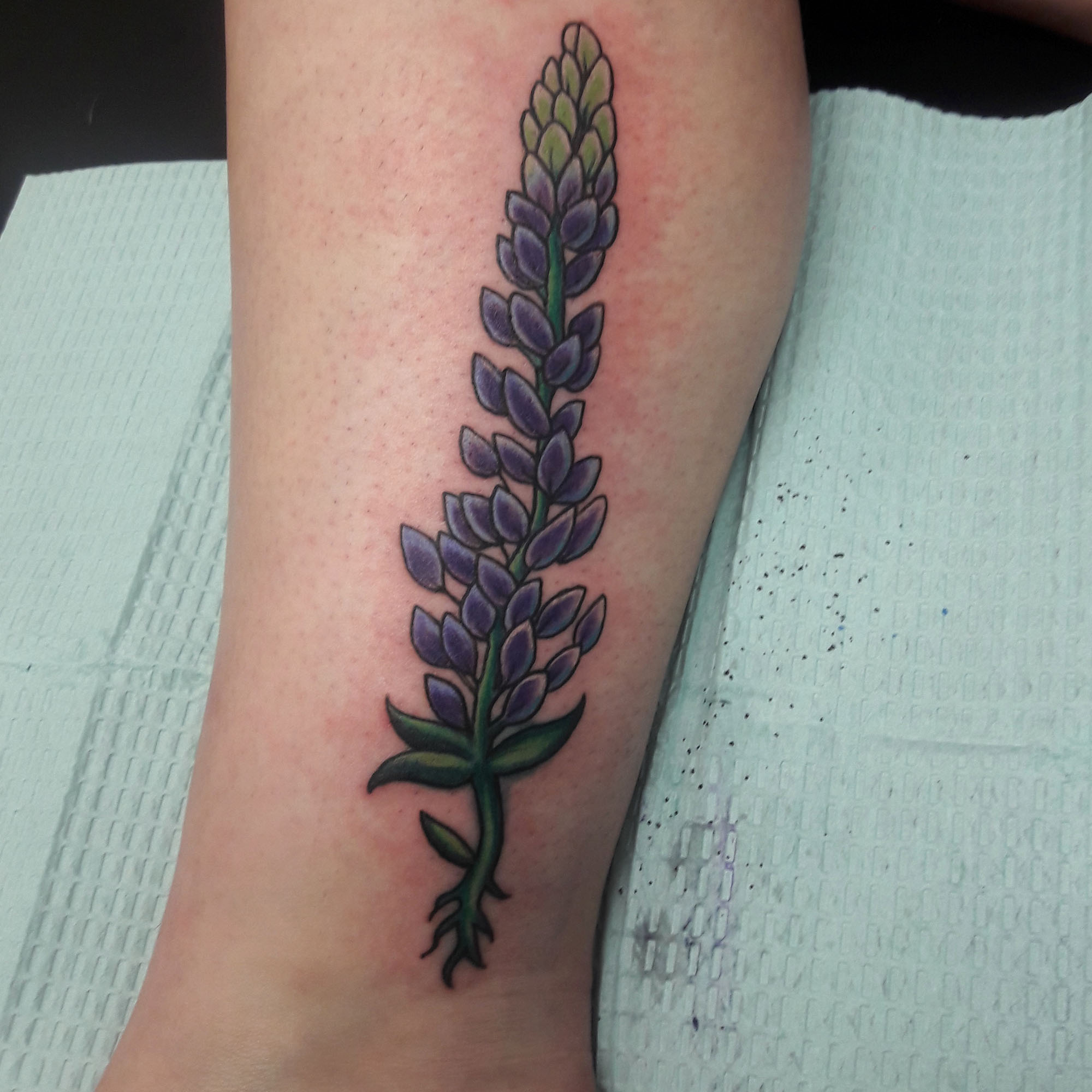 Lupine Banger 2017 (fresh)
I love doing botanical tattoos, especially when they are local to my own home in the northwest. I did this on a walk in Fall 2017